Unveiling the Future of Sustainable Surfactants
Nanjing, China became the focal point for the latest advancements in the cleaning products industry this year, as Yeser Chemicals proudly participated in the prestigious China International Cleanser Ingredients Machinery & Packaging Expo (CIMP) 2023. Our exhibition showcased a forward-thinking approach to surfactants that harmonizes cutting-edge technology with environmental stewardship.
A Green Presence
As visitors approached our booth, they were greeted by the distinctive Yeser green — a symbol of our commitment to ecological responsibility. The space was designed not just as a display but as an interactive hub where knowledge and innovation intersect.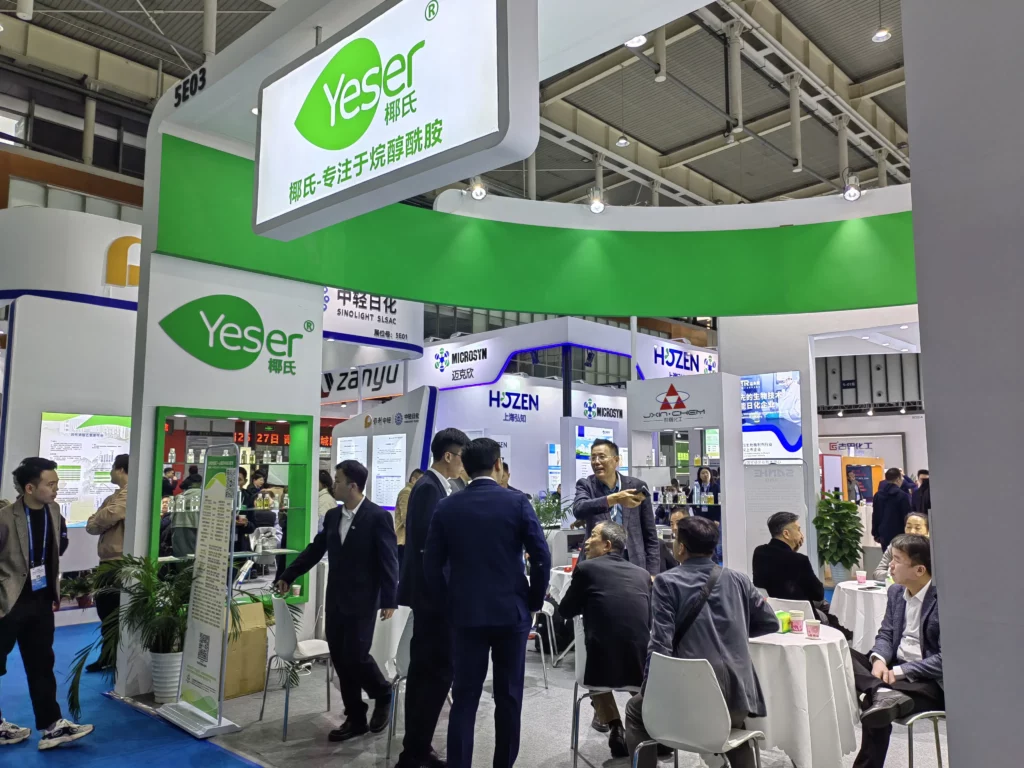 The products on display — including our groundbreaking coconut-based surfactants like CAPB (Cocamidopropyl Betaine), CDEA (Cocamide DEA), CMEA (Cocamide MEA), and EGDS (Ethylene Glycol Distearate) — were the stars of the show. These products epitomize our R&D achievements, encapsulating our dedication to providing the market with ingredients that are not only high in performance but also gentle on the planet.
Networking and Knowledge Exchange
The exchange of ideas was electric, as industry professionals from around the globe gathered to discuss and deliberate the future of surfactants. Our booth became a dynamic arena for the synthesis of new partnerships, learning opportunities, and the sharing of a vision for a more sustainable industry.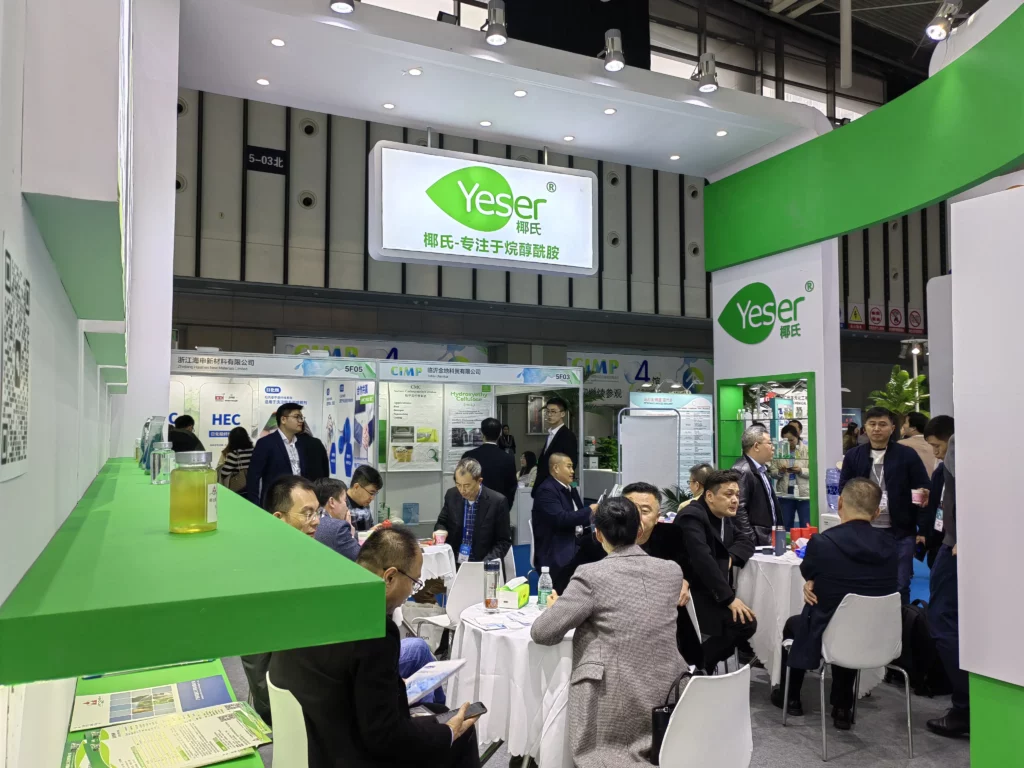 Our team engaged in deep conversations, highlighting how Yeser Chemicals is pioneering the integration of environmental safety into every product. The discussions ranged from technical inquiries about product specifications to broader dialogues on the role of sustainable practices in corporate strategies.
Thought Leadership and Workshops
Throughout the expo, Yeser Chemicals facilitated workshops and thought leadership sessions. These sessions covered a variety of topics, including 'The Role of Surfactants in Promoting Sustainable Living' and 'Innovations in Bio-based Cleaning Agents'. Our experts shared insights into our cutting-edge research and how it translates into our product offerings.
Community Engagement and Corporate Achievements
A pivotal part of our narrative at CICIME 2023 was our engagement with the community and our corporate milestones. We proudly showcased our initiatives in driving not just industrial growth but also contributing to societal well-being. Our community programs and partnerships with local and global environmental organizations underline our philosophy of 'growth with a conscience'.
Looking Ahead
As the expo drew to a close, we reflected on the wealth of interactions and the palpable enthusiasm for a cleaner, greener future. It was invigorating to see the alignment of our mission with the broader industry goals, and we left with renewed vigor to continue pushing the boundaries of innovation.
We are incredibly grateful for the engagement and feedback from all the attendees. It's the passion and curiosity of our clients and partners that fuel our commitment to excellence and our pursuit of sustainability.
Stay connected with us for more updates, and join us as we continue to lead the development of sustainable chemical solutions that pave the way for a cleaner tomorrow.