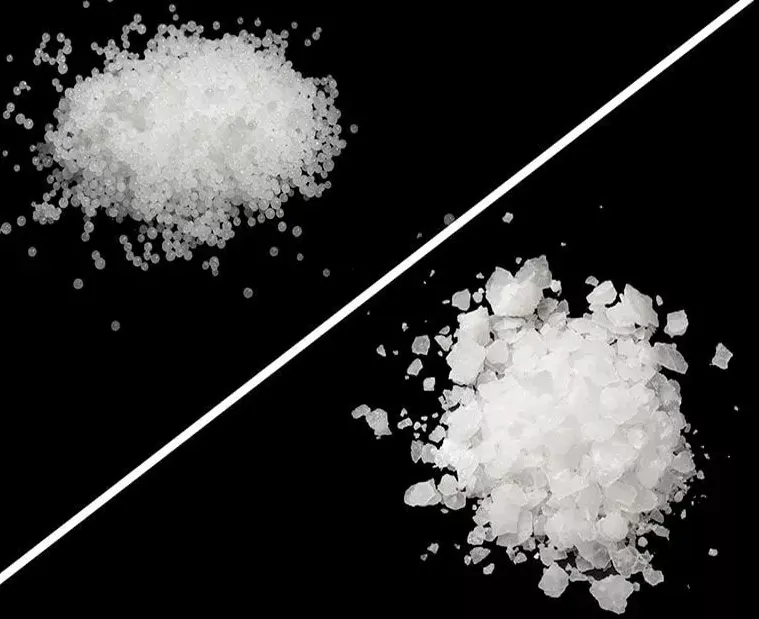 INCI name:  Sodium Hydroxide
Trade name: Caustic Soda Flakes/ Caustic Soda Pearls
CAS No.: 1310-73-2
Molecular formula: NaOH
Source: 3rd-party commissioned manufacturing
Standard executed: GB/T 209-2018
Packaging: in 25KG PP woven bag with PE liner
Sodium hydroxide, commonly called Caustic soda, is a common alkali base, massively used in the industry. It's a typical ingredient to increase the alkalinity of a compound or neutralize acids. In the detergent industry, it's usually used to neutralize Linear Alkyl Benzene Sulphonic Acid (LABSA) and to saponify vegetable and animal oils in the soap-making process. It's also utilized to clean and disinfect the detergent production lines as well, for its strong alkalinity. 
In addition, Caustic soda is also a common ingredient in formulating strong industrial cleansers. For example, a simple mixture of Caustic Soda with AEO-9 is a very effective heavy-duty cleanser to remove long-built grease and stains in workshops. 
Yeser Chemicals partners with two leading Caustic Soda producers through a Third-party Commissioned Production Agreement to supply top-quality Yeser® CSF and CSP at a competitive price, with a capacity of 2,000 MT/ Month. 
---
Features & Benefits: 
High purity up to 99.8%, as produced by a membrane process.
Super stable quality, as produced by appointed leading producers.
Steady supply, as guaranteed by long-term supply agreement.
Stability/Shelf life:
Hygroscopic. Air-sensitive.

Must be stored in airtight containers to preserve its normality as it will absorb water from the atmosphere; Follow proper NaOH storage guidelines and maintain worker/environment safety.

Under proper storage conditions, the shelf life of Yeser® CSF and CSP is 24 months.
Recommended dosage:
Depending on application, q.s. to achieve desired result.
Also known as:
Caustic Soda
Lye
Ascarite
White caustic
Antacid
Caustic
Soda lye
| Items | Flakes | Pearls |
| --- | --- | --- |
| | | |
| | | |
| | | |
| Bulk density, g/ml (25°C) | | |
| | | |
| | | |
| | | |
| | | |
| | Air sensitive, hygroscopic | Air sensitive, hygroscopic |
| | | |
| | | |
| | | |
| | | |
Frequently Asked Questions
We don't produce caustic soda by ourselves, yet we are not simply trading it. 
We have signed Third-party Commissioned Production Agreement with 2 leading producers. 
Together with our contract manufacturers, Yeser Chemicals supplies top-quality caustic soda flakes/ pearls at a competitive price, with a capacity of 2,000 MT/ Month. 
Due to transportation inconvenience, we do not supply Caustic soda lye, only Caustic soda flakes and pearls.
Our Minimum Order Quantity(MOQ) for Caustic Soda Flakes/ Pearls  is one 20″FCL, which is 26MT(for flakes) or 27MT(for pearls).
Did we forget something? Do you have a specific issue that needs a solution? Consider it done!
Fill in below fields, our team will get back to you with in-depth answers in 24 hours. 
You may also be looking for